AMERIQUE
Diving: From the shore
Difficulty: Low
Maxi Depth: -22 meters
It lies a few tens of meters from the wreck of the Bowesfield, in the hamlet of Faro on the northern outskirts of Messina.
In the historical archives it is possible to admire vintage photos that recall the wreck stranded on the beach in front of the church of Torre Faro.  The erosion of the currents then helped to slide the wreck down but not enough for it not to donate its plates to the homeland during the twenty years fascist. 
Today the wreck appears completely devastated but it is possible to see the structure of the keel and a boiler that still maintains a discreet physiognomy. The bow line lies on a backdrop of 6 metres, while the stern touches the 28, the twisted plates offer shelter to Moray (Muraena Helena), Conger Conger and groupers (Epinephelus marginatus);  There are also a large number of nudibranchs and numerous sparkling peppers with yellow or red and black heads (tripterygion delaisi).
Pinneggiando to reach the wreck is possible to notice the presence of the largest shellfish of the Mediterranean: Fin nobilis, now protected species. It plays a very important role in the Mare Nostrum because it provides us with important data regarding the pollution and turbidity of water. The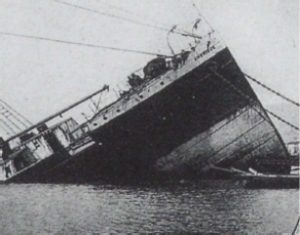 exploration of this wreck especially in the night time always reserves of beautiful surprises.
The Relittino, so called by the divers of the city, is absolutely a fantastic gym for neo-divers who want to experience the first emotions of the discovery.